Edit the add products screen on Salesforce Opportunities
Have you ever been asked to edit the Add Products screen on Salesforce Opportunities? Or perhaps you would like to know how you can edit the layout to make changes? If your answer is yes to either of these questions, then good news, you're in the right place.
Default view of add products screen
After clicking 'Add Products' from the Salesforce Opportunity, below is the default screen that appears.

After selecting which products you would like to add to the opportunity, you will then progress to the next screen (Edit Selected Products) where you can select the quantity and set the sales price. Potentially there may be some fields we would like to add or remove from this layout too.

Edit Add Products screen
Firstly, navigate to Setup and select Object Manager. The quickest way to locate an object is using the quick find search box, so using this feature find and select the Price Book Entry object. From the side menu select Search Layouts.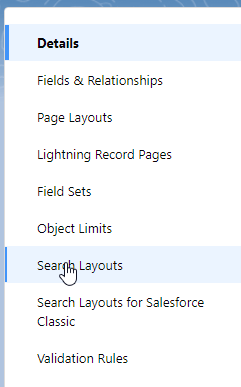 From the Search Layouts menu you will see a list of layout profiles available for editing. At this point, select the appropriate profile you wish to make changes to. In our example we have selected the default layout.
As you can see from our example below, the five selected fields match up with what we had originally. Simply select the relevant fields you wish to add or remove from the layout, making sure to press save after you've made your changes.
The Add Products screen has now been updated. If this is what you wanted to achieve, then mission accomplished – congratulations! You can now navigate back to your opportunity and witness the changes you've just made.
If you would like to take this one step further and make changes to the Edit Selected Products screen as well, please continue reading.
Edit Selected Products Screen
To make changes to the Edit Products Screen, select Setup and navigate to Object Manager. Using the same method we described earlier, use the search box to look for the Opportunity Product object. Select this object and click on Page Layouts from the menu on the left.
Select the appropriate page layout that you wish to edit and select Edit Multi-Line Layout.
From the screenshot below you can see that the five selected fields match up with what we saw originally in Figure 2. In the same way we edited the Add Products screen, select which fields you would to add or remove, and then make sure to hit that save button before exiting.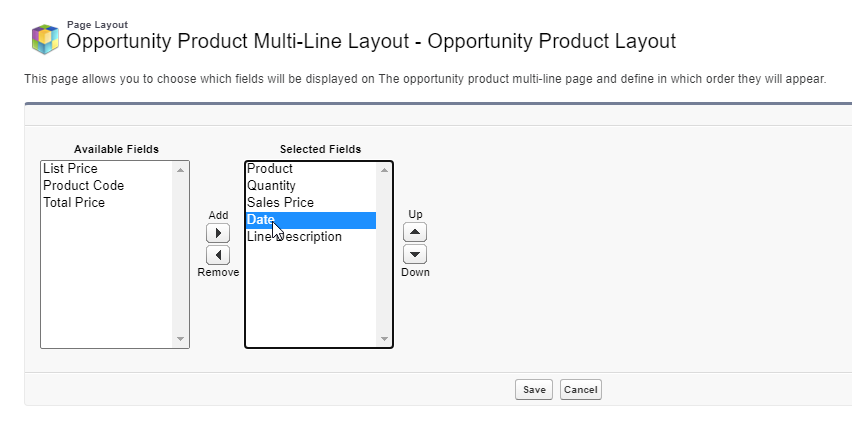 The Results
Navigate back to your Opportunity, refresh the screen, and press Add Products.
On the first screen (Add Products), the product family field has been removed. Whilst on the second screen (Edit Selected Products), the date field has been removed.
Thank you for reading and we hope you found this blog useful.
We many more useful blogs available here.