Send a List Email in Pardot
If you're looking for a quick and easy guide on how to send a list email in Pardot, then look no further, this is exactly what you need.
Ensure you are using Pardot Lightning (The Pardot App located within Salesforce).
Step 1
Create New Email Campaign
Navigate to Campaigns > Select Dropdown > Select New Campaign
Select Appropriate Campaign Record Type
Fill in as many applicable details as possible and ensure field 'TYPE' is EMAIL and 'Active' is 'checked'
Step 2
START DRAFTING LIST EMAIL
Navigate to Pardot Email > Drafts > + Send New List Email
Fill in applicable details and associate email to the correct FOLDER & the CAMPAIGN that was just created.
N.B. If the campaign isn't available, then wait up to 5 minutes.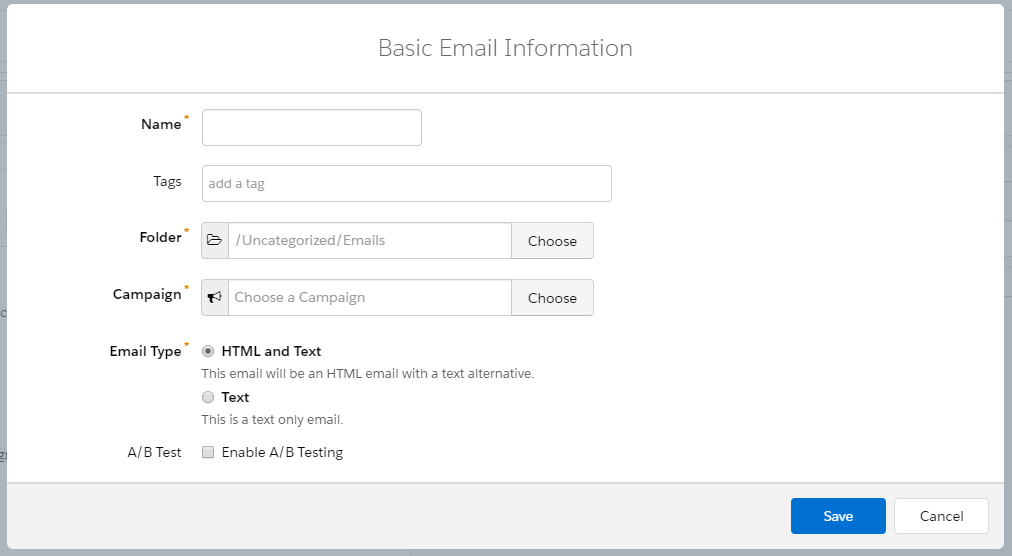 SAVE and then select the template you would like to use.
WORK THROUGH BUILDING OPTIONS
Click and edit the applicable sections to build your email as to your requirements
Preview the email as a prospect to check merge tags
Create a text version of the email
N.B. if you make a mistake you can select a previous edited version via the 'history' button on the right. You can also restore or change to a different template via the 'apply a template' button underneath the subject line editor.
WORK THROUGH TESTING OPTIONS
Select your internal test list to send to your internal team
You can also send to individual emails outside of your Org via the 'individual emails' field
If you have the ability to run a 'Render Test', do so below and wait a few minutes for the system to simulate email clients accordingly
Step 3
WORK THROUGH SENDING OPTIONS
First, select the lists that you want to send to, and the lists you want to suppress.
Then select 'From' options.
The sender can be a General User, Specific User, Assigned User or Account Owner
The 'Reply To' address can be different from the sending address and has the same options as above
e.g. Send from 'General User' and then reply to 'Specific User'
Input your subject line. You can also use the advanced subject composer to add Merge Tags to your subject along with emoticons.
**ONE MUST ASSIGN THE FOLLOWING COMPLETION ACTIONS AS A MINIMUM**
When a prospect opens the email, their campaign member status has to be changed to 'open' on the campaign that you assigned at the start of this process
When a prospect clicks the email, their campaign member status has to be changed to 'clicked' on the campaign that you assigned at the start of this process.
N.B. You can add many completion actions additionally to each of these.
Schedule your mail for a later date or send your email now.
CONGRATULATIONS! Now you know how to send a list email in Pardot.
FIND OUT MORE
We've been in the Sales and Marketing Strategy game for longer than we care to remember, but we pride ourselves on the combined exposure our team has had to different B2B markets globally, and the strategic services we offer your business as a result.
If you are looking for Salesforce / Pardot Support with an existing Org or want to know if Salesforce or Pardot is right for you, get in touch with us for a free consultation or simply a chat. We regularly work alongside Start-ups and Enterprises alike, so we're certain we will find you a path to growth, whatever your plans.
We are open Monday-Friday 9-6pm and have open channels for communication either on our LinkedIn, Twitter or you can simply give us a call on 020 8106 8500.